Opportunities for Collaboration, Creativity and Connections Abound at San Diego Coworking Spaces
If you've shopped for coworking space lately, you've discovered that different offices present different vibes (I wrote searching for the right environment for me in a previous post).
Besides the general feel of a work environment, I'm always interested in regional differences, so I like to tour different spots when I travel.
On a recent visit to San Diego, I toured some coworking spaces in the city -- a haven for biotech and hospitality – to get a sense of the area. I quickly learned that the startup community is alive and well here.
Through the San Diego Coworking Alliance, I found three spaces located within close proximity of each other and the San Diego Airport, streamlining my travel plans: Co-mmunity, 3rdSpace and Hera Hub. (Other members I was not able to visit: Ansir Innovation Center, Startup Hub, and Nest Cowork, Incubator and Shared Workspace).
While each space had a distinct personality, I also found numerous commonalities. All seek to scaffold their members to success, providing educational events and workshops, connections, partnerships, sponsorships and/or mentors in a way that is unique to their space and consistent with their brand. To encourage a sense of community, two of the spaces do not offer a virtual membership. "We like to have our members come to the space," explained Marc Chew, general manager of 3erd Space. Hera Hub upholds a similar philosophy, maintaining they want their members to get to know each other.
Co-mmunity. A Hub for Small Businesses and Entrepreneurs
In my constant search for ways spaces build community among their members, I was particularly motivated to visit my first stop, which unabashedly is named co-mmunity. Situated on the upper floor of a nondescript two-story building in the Hillcrest area, it presents a distinct industrial feel, with high ceilings, visible steel beams and windows that overlook the neighboring residential community.
Most of the workspace is bench style, with long tables, low dividers and comfortable task chairs, with a few standing desks and lounge spaces and a café area available for informal meetings or simply a change of environment. A carpeted corner with only floor pillow for seating provides a super relaxed alternative.
Three enclosed glass-fronted small conference areas are available for private meetings or quiet space, including one equipped for podcasting, with additional soundproofing currently being considered, according to co-founder Anatoli Deviataiki. A separate room houses dedicated desks.
Overall, I found it to be a light, airy, productive and work environment, possibly because just a fraction of spaces were occupied during my morning visit, so it was relatively quiet, save for an occasional phone call or collaborative chat.
Russian native Anatoli and his German-born partner co-founded co-mmunity earlier this year and are in the process absorbing a since shuttered co-working space in downtown San Diego. In between also hosts weekly workshops and events in its 6,000 square foot event space, the partners are leveraging their international backgrounds to develop an educational program to advise other foreign-based entrepreneurs and small businesses on how to break into the U.S. marketplace, planning a two week seminar that will immerse attendees in the vicissitudes of American business.
Vibe Open industrial
Niche / focus International business development.
Member services Workshops and seminars
Notable features Podcast room
Neighborhood Hillcrest
1228 University Ave. Suite 200
San Diego, CA 92103
858-939-1836
co-mmunity.com
Contact: Anatoli Deviataiki, co-founder
info@co-mmunity.com
3rdSpace. Club for Creatives (Update December 2016: This space has reportedly closed)
One neighborhood over from Hillcrest is University Heights, a charming and eclectic community full of character and restaurants, bars and shops along Park Boulevard. Slightly hidden behind a stained glass window between a restaurant and a liquor store, is where I found Third Space, which bills itself as a club for creatives.
With its focus on collaborative, creative energy, 3rdSpace exemplifies the name it plays homage to, i.e. hangouts and gathering spots that provide a community center aside from the home (First Place) and workplace (Second Place) such as cafes, clubs, parks and even hair salons.
A decidedly different personality characterizes Third Space, with dimly lounge areas that are popular meeting areas for its members who are a mix of creative entrepreneurs with heavy emphasis in photography, video and the like.
Initially focused on artists, printers and makers, the 5,500 square-foot space has evolved into a creative hub nurturing new product development and manufacturing with the facilities to support it. Members have access to services including 3D printing, extensive photography equipment and studio space and mentors with expertise in manufacturing, logistics and pricing, graphic design and videography.
While not an incubator per se, 3rdSpace has a mission to support its members in bringing products to market with a number of successful Kickstarter campaigns under its belt. Indeed, on the day of my tour, the space still had the newly built catwalk used in a 1960s-themed fashion show. The runway showcased a member's new product, the Undress, a dress designed to allow the user to change clothing without having to be fully unclothed (anyone who has tried to change themselves or a small child in a car will immediately grasp the need and functionality of such a garment!) A men's version, the Undercover, a portable changing room that converts to a backpack, is also in development.
Rather than community breakfasts, lunches or happy hour, 3rdSpace more typically hosts jazz nights and other events that celebrate the work of its members such as app launches, book release, and photography shows.
Much of the space is large, open gathering spaces, ideal for the many member events, but there is a smattering of smaller meeting areas and a dedicated room nicknamed the "engine" that accommodates private meetings and calls within the two floors that serve members.
Vibe Quirky, artistic
Niche / focus Creative product-development firms ready for Kickstarter campaigns
Member services Resident 3D printing engineer, launch events
Notable features Photo studio
Neighborhood University Heights
4610 Park Boulevard
San Diego, CA 92116
619 255 3609
3rdSpace
Contact: Marc Chew, general manager
marc@3rdspace.co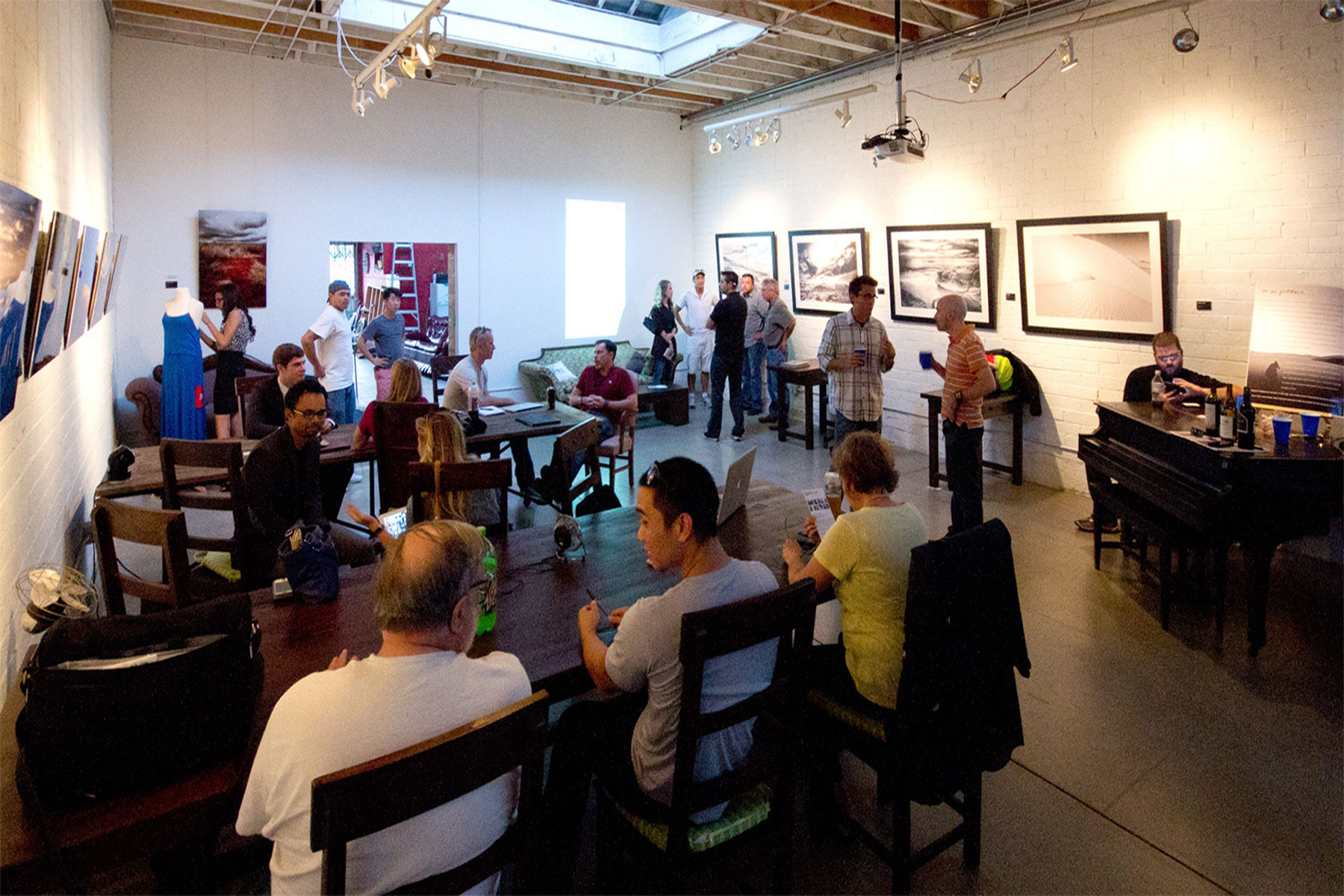 Hera Hub. Coworking Space for Women
In strong contrast to quasi-residential neighborhoods of Co-mmunity and quirky artsy surroundings of 3rd Space, Hera Hub's Mission Valley location is located in a decidedly more traditional business park setting.
But inside its open, plant-filled atrium was a much more modern story. An entry sign that promises a spa-like office setting for women solopreneurs and business owners, which, frankly, came off a bit gimmicky to me. And the residential-style décor reminded me of so many dental offices attempting to put out a homelike vibe to relax their patients.
Cozy, spa like setting and work? Did not seem like a workable combination to me. But I was happily surprised to find one of the most productive, supportive work settings I've encountered. Community manager Melissa Glazer warmly greeted me and explained the premise of the space, which is realization of its founder Felena Hanson. From three San Diego locations (other are located in Mission Valley and Sorrento Valley), Hera Hub has since expanded worldwide via franchising and licensing.
Hera Hub houses several enclosed permanent offices for businesses such as tax consultants and marketing firms. Daily users enjoy a super quiet, plant-filled, open-air benching system where no phones are permitted. For maximum quiet, the space has a glass-walled room for heads down work. Encouraging quotes on the walls of every workspace remind members of their goals and focus.
While the residential, girl power vibe is not for everyone, Hera Hub can certainly be a terrific alternative for the right female entrepreneur in search of community, support and quiet work space. Hera Hub offers numerous ways to both support and promote its members within and outside its workspace, most notably with its guru program. Experts in writing, marketing and other skill sets offer free expert advice in writing, marketing and other skill sets during regularly scheduled open office hours in the front lounge area, Melissa explained. Other workshops, from tax planning to marketing strategy run frequently as well. "We really want our members to get the most out of the space," she said.
Membership at the 3,600-square-foot Mission Valley location is comprised primarily of solopreneurs, small companies with less than five employees and professional service consultants. Industries range from marketing, content development, legal, graphic design, technology and science.
Hera Hub offers numerous platforms to help their members build businesses, supporting them with an online Facebook group, weekly social events and workshops such as the Monday writing lounge.
Like many coworking spaces, Hera Hub can claim numerous collaboration success stories that have grown out of the space. I happened to meet one of them: Rebecca Tall Brown partnered with another independent marketing professional she met at Hera Hub and the two now run Office of Awesome. As if I needed any more proof that this was a community that thrived on building connections, I had barely made it to my car when I get an email from Rebecca inviting me to a mixer event. If I was a San Diego local, independent or otherwise, I would have been there.
Vibe Homey, spa-like
Niche / focus Nurturing environment for female solopreneurs
Member services Onsite gurus and free workshops
Notable features Option to partake in broader range of activities at other Hera Hub locations.
Neighborhood Mission Valley (other San Diego locations: Sorrento Valley and Carlsbad)

8885 Rio San Diego Drive, #237
San Diego, CA 92108
885 437 2482
herahub.com
Contact: Melissa Glaze, community manager
melissa@herahub.com
Have you visited any new spaces lately? What were the highlights?
Untethered is a curated collection of news, trends and thoughts about remote working enabled by technology by Carolyn Cirillo, an LA-born, Brooklyn-based design writer, researcher and marketing strategist.